---
Based on the recommendations for safe and social distancing, we will be re-opening the museum on Thursday 6/4 after a thorough spring cleaning. The staff will maintain proper cleaning and sanitizing of the museum space on a regular basis on the days we have visitors. We encourage our visitors to please be respectful of social distancing and wear a mask when entering until further notice.
You can be a hero of Maine's rich skiing history by renewing or becoming a member to the Ski Museum of Maine. Benefits of becoming a member include receiving our newly designed bi-annual Snow Trail magazine, special invitations to events happening across the state of Maine, a 10% discount on all online purchases, and updates on new exhibits both in the Kingfield Museum as well as our permanent satellite exhibit in the Robinson House of the Bethel Historical Society. To renew online, click on the button below which will take you to our membership page.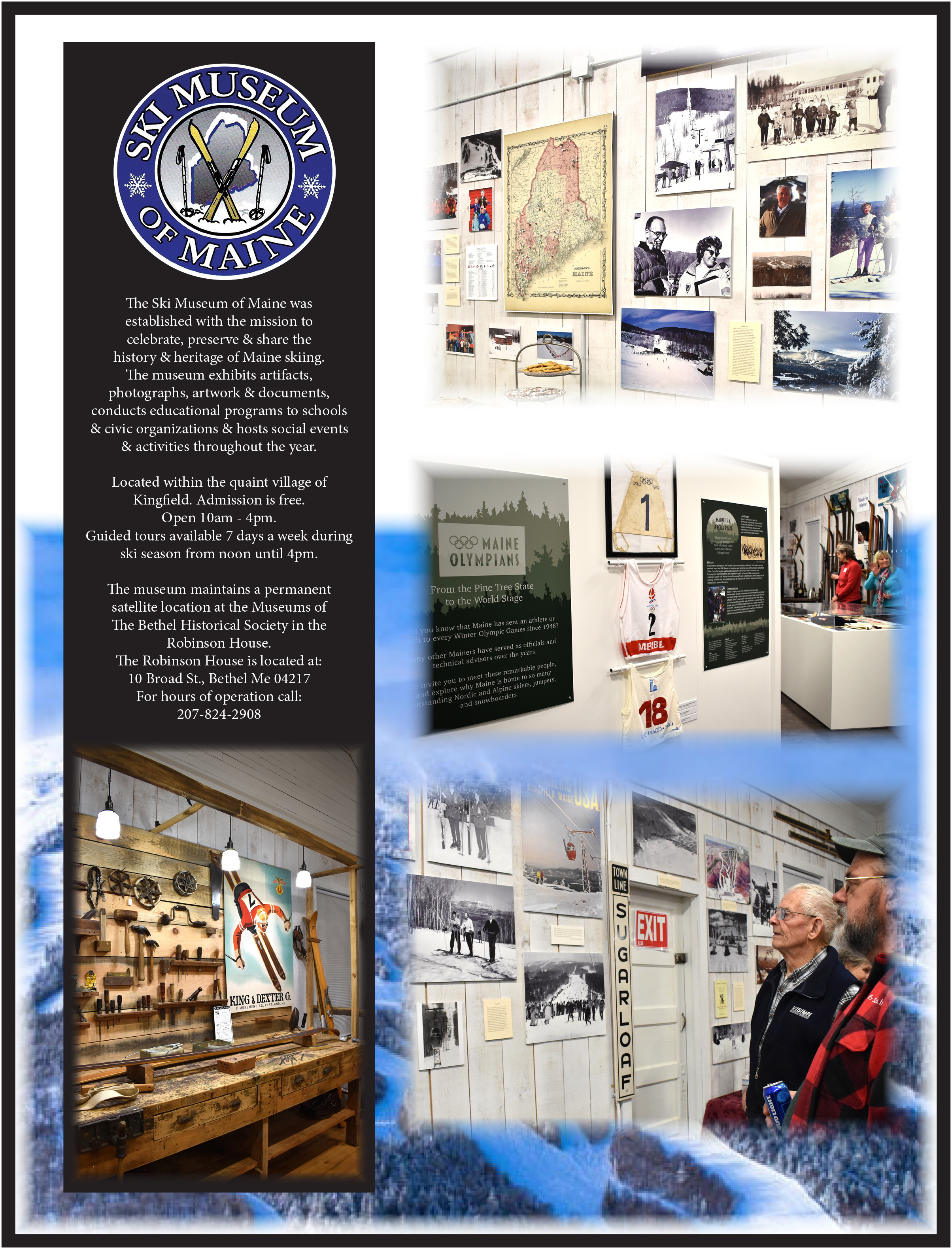 - Ski Museum Of Maine Mission -
Celebrate, Preserve and Share The History and Heritage of Maine Skiing.
It's time to renew your membership for 2020!
Thank you to all our members and donors - 2020 marks a big year in Maine's Ski History and we will be sharing our mission throughout Maine in celebrations across the state! This year marks 150 years of skiing in Maine, along with our state's Bicentennial! Be sure to check our events page out for updates on our activities.
A big thank you to all our newly trained docents/volunteers. As a result, the museum was open on the weekends during ski season. We saw quite a few guests during February vacation week - it's great meeting potential new members. Membership benefits include receiving our new 4 color Bi-Annual Snow Trail Magazine which is filled with great ski stories from around the state and special invitations to our upcoming events.
Make a Donation
Help us support our ski and snowboard mission: "To preserve and publicize the business of skiing in Maine, while celebrating Maine's ski history and heritage"

256 Main Street, Kingfield, Maine
Phone: 207-265-2023
Closed until further notice.
Maine is very rich in ski history, yet many people do not realize it nor recognize the place this history holds within the American ski world. Because of this, many of those who have valued the special spirit our sport entails are concerned this history will be lost. It is this concern which motivated the founders... Keep Reading.